The Kimo Kimo Cup Robot Design Contest is a contest held by Comcept where Backers can participate in designing their own Mighty Robots that will appear in Mighty No. 9 in a cameo.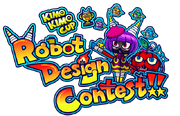 Each contest had it's own theme, while trying to make it represent the country the artist was from. Later, a second wave of entries was announced to be in the game as well.
Contest Winners & Redesign by Keji Inafune
Pineapple Grenade
Edit
Landcrusher
Edit
Sky Tower
Edit
Ad blocker interference detected!
Wikia is a free-to-use site that makes money from advertising. We have a modified experience for viewers using ad blockers

Wikia is not accessible if you've made further modifications. Remove the custom ad blocker rule(s) and the page will load as expected.